I haven't had a chance to upload any recent Halloween pictures yet...we've taken Caydan trick or treating at Disneyland so far and so I have tons of pictures from that event, and we also have pictures from the cemetary as we decorated Avery's gravesite last weekend....but they're all still on my camera......
BTW - If you want to see the decorations for Avery, we have to take them down this Saturday, so be sure to stop by before then :) Otherwise you can just see when I post pictures.
So instead of sharing THIS year's Halloween moments...I'm going to take a look back at Halloween over the past few years...
Unfortunately my shutterfly account no longer works from my work computer for some odd reason, so I can't access anything that I don't have on my myspace site already unfortunately........and I don't have anything from Avery's first Halloween, nor do I have anything from Caydan's first Halloween (except some from the cemetary below)....
What I do have though is both of their 2nd Halloweens where they both were Tigger :)
This is Avery as we walked to the Halloween Carnival at Wilson Park...a memory I have from that day is when these two Asian women who didn't speak very much english asked if they could take a picture of Avery because they thought he was so cute! So somewhere out there, two ladies that i don't know have a picture of Avery somewhere....if you're reading this, please send! :)
And here is Caydan...I really wanted him to be Tigger as well, but I didn't want him to wear all of Avery's costume...that way it would always be AVERY'S costume....but Caydan did wear the Tigger pants with his costume here, which is absolutely adorable :)
And here's a snapshot of Caydan, me, and Mr. Simpson :)
And one more of me and Caydan :)
Halloween 2006 was the first time we decorated for Avery at the cemetary...my sisters and grandfather joined us and we put Caydan's costume on and took pictures....cute little Caydan was Batman that year :)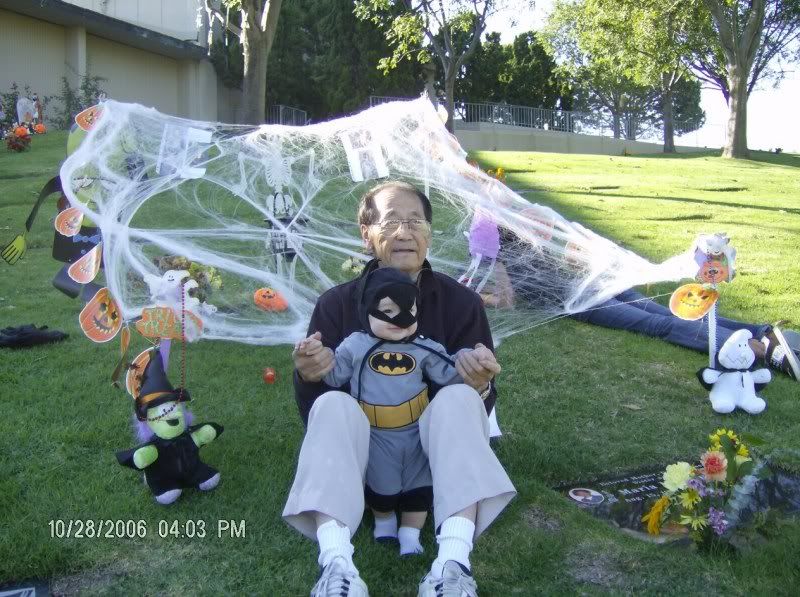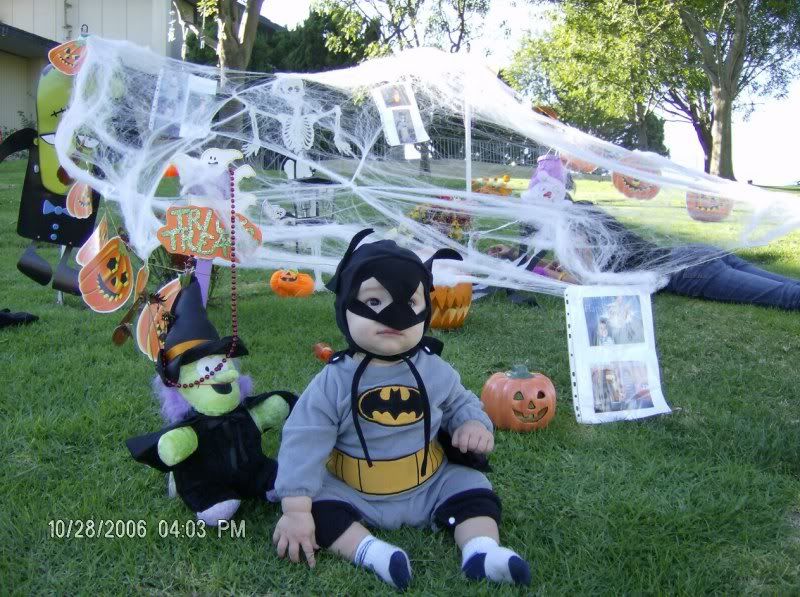 And look how cute widdle Caydan is here! He looks like he's trying to fly like Batman!
And then here is a picture from last year's Halloween when we decorated...we tried a little different of a tactic for all of our decorating after that first Halloween because we realized that they water the grass even while decorations are up (duh) and everything gets wet.....so anything you don't want wet or that can't withstand water (i.e. paper and fake spiderwebs) probably shouldn't go out there.
Although, I don't think you can see it in this picture, but we carved a pumpkin for Avery and brought it out here as well...but by the next week when we came back, the pumpkin had rotted and molded to almost flat and green and it was REALLY disgusting...and stuck to the grass until it grew out. Also not a good idea.....
So this year we painted pumpkins instead of carving them and I painted a purple one for Avery and we took it to the cemetary for him :)
So this year, Caydan is going to be Captain Jack Sparrow...and we got his costume straight from Disneyland so it's as authentic as it gets...he absolutely loves his costume and even kept his hat on the entire time at Disneyland...and we got him a little sword as well which he carries with him every day and even brings it to bed...too cute :)